Supported Entities
DwgMerge 2020 is designed to designed to merge XML or JSON content into AutoCAD DWG files. The syntax of the definition of content follows the structure of the output as defined in Tailor Made Software data extraction products LinkList 2020 and DwgList 2020.
The entities that can be added to an AutoCAD DWG file are:
Sample Entities used in this section
Note: You can download the sample DWG used in this sample, and you can access the source-code of the Full XML Reference Sample and Full JSON Reference Sample files used in this section.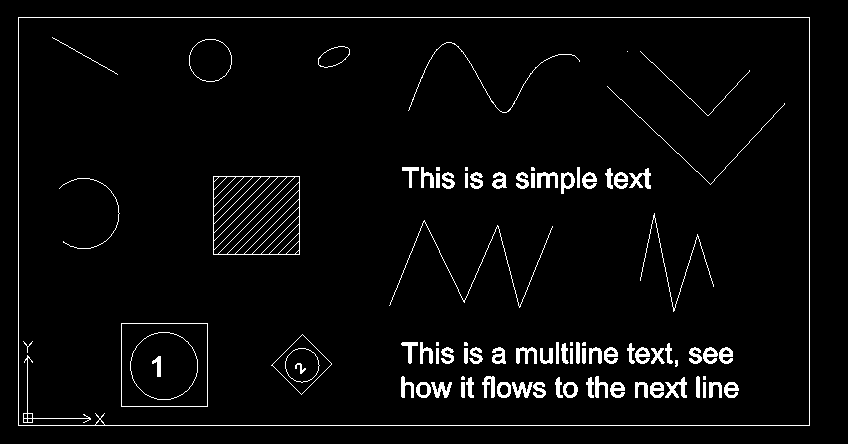 Layers
XML Input Sample - Layers
JSON Input Sample - Layers
Polyline
XML Input Sample - Polyline
JSON Input Sample - Polyline
Line
XML Input Sample - Line
JSON Input Sample - Line
Circle
XML Input Sample - Circle
JSON Input Sample - Circle
Ellipse
XML Input Sample - Ellipse
JSON Input Sample - Ellipse
Spline
XML Input Sample - Spline
JSON Input Sample - Spline
Arc
XML Input Sample - Arc
JSON Input Sample - Arc
Hatch
XML Input Sample - Hatch
JSON Input Sample - Hatch
Text
XML Input Sample - Spline
JSON Input Sample - Spline
MText
XML Input Sample - MText
JSON Input Sample - MText
3DPolyline
XML Input Sample - 3DPolyline
JSON Input Sample - 3DPolyline
Block
XML Input Sample - Block
JSON Input Sample - Block
BlockReference with Attributes
XML Input Sample - BlockReference with Attributes
JSON Input Sample - BlockReference with Attributes
MLine
XML Input Sample - MLine
JSON Input Sample - MLine
Full XML Reference Sample
Full JSON Reference Sample